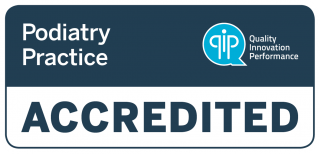 At Foot Hold Podiatry, our services range from general foot care (nails, corns and calluses) to more specialist foot care (gait & biomechanical analysis, neuro-vascular assessments, sports podiatry and orthotics).
Our podiatrists can provide professional services for:
Children, adults, and elderly
Sports podiatry and sports injuries
Musculo-skeletal health
Plantar fasciitis (soft-tissue) treatment
Ingrown toenail treatment
Ingrown toenail surgery
Computer gait analysis
Custom-made orthotics
Footwear advice
Diabetes foot care
General foot care
Prevention of chronic disease through assisting in peak physical activity
Home visit care
Why Your Foot Health Is Important
Your feet, with your lower limbs, are essentially responsible for your movement, balance and handling your weight. They are often the first part of your body which can indicate a health problem, especially if you are suffering pain from prolonged periods of standing, walking or running. At Foot Hold Podiatry your feet are our priority, as they can determine your future mobility and physical activity levels according to national and global standards of health. From your early steps, through to your most active years and onto your senior years your feet define you and your health.
Our Podiatry Clinic, Melbourne
Our Melbourne Podiatry clinic is located only 17kms from Melbourne's CBD, has convenient onsite parking and is close to main transport links. We have welcoming and friendly staff, offering a comprehensive professional service to make you feel comfortable. Our opening hours are flexible and structured to suit your requirements. We also recognize your time is valuable so we pride ourselves on always seeing the patients on time.
Our Melbourne Podiatrists use the latest equipment for diagnosis and analysis. This includes the latest technology such as computer gait analysis. We also use only high quality stainless steel instruments for all our procedures. All our instruments are cleaned and sterilised in a Melag 23 VS autoclave, meeting the highest Australian infection control standards. Our receptionists are happy to assist with any inquiries about our clinical treatments, podiatrists and available appointments.
Industry Qualifications
All our podiatrists at Foot Hold Podiatry are registered to practice in the state of Victoria and are members of the Australian Podiatry Association and the Australasian Academy of Podiatric Sports Medicine. Our podiatrists are experienced in all aspects of podiatry and continually update their professional skills through continuing education and conferences. With their expertise they will help you find a solution to your foot problem or health expectations.
Early Years: Developing Healthy Feet and Lifestyle
As a parent, you will realise the importance of your child's feet from their first steps to their busy daily activities. These first steps and busy activities may trigger injury or even alert you to unusual shoe wear or an unusual walking pattern, indicating an underlying health problem involving their limbs or feet.
Our Melbourne Podiatrists are experienced with treating children of all ages. They will perform a thorough history and examination often involving computer gait analysis and inform you on the best podiatry care for your child. They can also assess your child's suitability for orthotics and determine the best orthotic treatment plan for your child.
Children use many types of footwear, the variety and choice can be overwhelming. You may have concerns about choosing the right type of shoes, runners or sandals. Our Melbourne Podiatrists specialise in childrens feet and can happily advise you on what to look for when buying childrens footwear.
Sports Years: Managing Running and Active Feet
Our Melbourne Podiatrists have a special interest in sports podiatry and vast experience in treating both acute and chronic overuse sporting injuries including:
1. Shin splints
2. Achilles tendonitis
3. Ankle sprains
4. Heel Pain
5. Stress fractures
These types of injuries need a sports podiatrists intervention for corrective treatment, so enabling better and safer performance.
Our sports focused podiatrists specialise in human biomechanics and use computer gait analysis to help diagnose the cause of sports injuries. The specialist team at our Melbourne podiatry center can also accurately assess your running gait and design custom-made orthotic devices for your sports shoes. By improving foot function and lower leg mechanics custom-made orthotics can help treat and prevent many lower leg sporting injuries.
Senior Years: Maintaining Mobility
The older you are, the more likely you are to suffer pain in your lower limbs and feet from years of walking and prolonged periods of standing when working. As we enter our senior years, it is important that we take good care of our feet, to maintain peak physical activity, so as to limit the possibility of chronic diseases and to reduce the chance of hospitalisations.
Most seniors consider podiatry clinics treatment place for just nails, corns and callouses. We do offer these treatments, but much more. Our Melbourne Podiatrists treat a whole range of foot problems from arthritis, diabetes and joint pain (hip, knees, ankle, feet etc.) to ingrown toenail treatment and ingrown toenail surgery. By using computer gait analysis we can assess your walking pattern and advise you if your feet would benefit from orthotics to improve foot function. We can also advise you on the correct footwear for ageing feet and preventive foot care maintenance, helping keep you more mobile and active for longer periods.